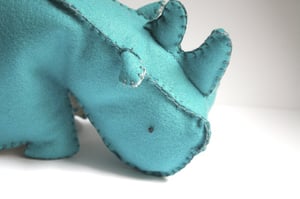 $

68.00
An adventurous rhino, Riley always seems to be getting into something or other. He often has his nose buried in a jar of blackberry jam. He mischieviously digs up his neighbor Ms. Giraffe's flower bed looking for gold rocks. Spending his afternoons building the tallest sky-scraper out of pop-sicle sticks are what keep him busy most days.
Through all of his many adventures, he never forgets to act like the gentleman his mother taught him to be. He demonstrates his good manners by carrying the little birdies on his horns across the stream when their wings get tired. Such a good rhino.
I designed Riley completely by hand one cold, wintry afternoon, but he has a warm heart and would love to go home with you. He is made of 100 percent wool felt, which means he resists fuzzies very well and is all natural.
I hand stitched him with hand-dyed, pearl cotton Valdani thread. His underbelly is made of a multi-colored, blue polka-dot, cotton fabric and his tail is hand braided. Navy blue french knots make up his eyes as well as his charming smile, (He gets it from his dad).
Riley measures approximately 8.5" inches long, 4.25" inches tall by 3.25" inches wide. A machined stitched safety bag of rice sits inside his belly to give him weight,(also on reserve for when he gets hungry on his many adventures) and all natural cotton fibers are what make him lovable and huggable. Perfect for your little ones' hands.
Note: Because Riley has a small bag of rice in his center, please supervise children while at play. He is made with the highest safety precautions, and although the rice bag is securely stitched closed, this toy may not be suitable for children ages 3 years and under.