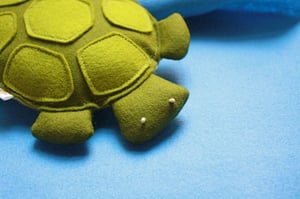 $

28.00
Named after the famous baby turtle in our household. Jewels is just that, a jewel. She does a wonderful job of keeping my daughter and I company in our cozy little apartment here in Brooklyn. Turtles are very intriguing animals that have a lot more energy than most would believe.
Besides spending at least three hours a day getting her exercise (she's always trying to climb out of her tank), Jewels is in to various other activities.
She loves to somersault over her rocks and plays hide and seek under her sea shells. We always find her, but it's fun nonetheless.
You can have your very own Jewels made from the finest imported wool felt. Only the best materials are used for such a talented and beloved turtle!
Jewels measures approximately 7"in long by 5.5"in wide. Two little french knots are hand embroidered so she can see where she's somersaulting. She is stuffed with 100% organic cotton fibers and has a rice filled pouch in her very center. The rice pouch gives her just enough weight to keep her tiny body from flying away.
Note: The rice is securely sewn in a separate safety pouch and is surrounded by cotton fibers. All edges are machine stitched closed. Although this is super safe, this item may not be suitable for children ages 3yrs and under. Please use supervision and adult discretion to ensure the highest safety measures.